Team Members
Under the vision and management of F&B Industry veteran, Adnan Bamboat, Copper Chimney continues to grow its base of loyal customers. His team of experienced professionals and dedicated members ensure that each guest walking in the restaurant has a pleasant experience.
MANAGEMENT TEAM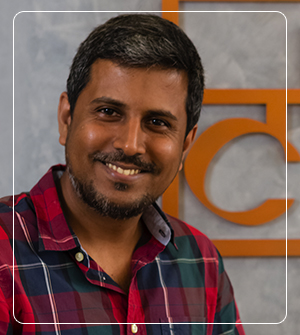 ADNAN BAMBOAT
Managing Director & CEO
Adnan, or Ady as his friends fondly call him, became associated Copper Chimney Restaurants for many years before he came to the Managing Director in 2015.
After completing his Masters in Marketing from Middlesex Business School, UK, in 2004 he has worked in Management Positions in a wide range of service Industries including Media Marketing, FMCG Marketing, Pharmaceuticals, Medical Devices and HR consulting and Training.
He experienced the true flavors of Indian cuisine in Mumbai, India and wants to offer the same to our Customers. He is the first to try out any new dish that our Chefs invent, ensuring quality and suitability for our customers.
He strongly believes that people are the key factor for the success of any organization. He allocates significant resources to train our staff members and keep them motivated, including personal interaction at all levels.
"My vision is to make 'Copper Chimney' a successful brand across South East Asia and am dedicated to expanding into new markets in the region. At the same time, we need to work hard to improve the taste & quality of our food and enhance the standards of our service. Our ultimate aim is to have each customer leave our restaurant with satisfaction and come back for more."
---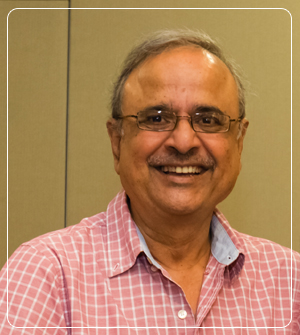 ANWAR SHAIKH
Director
Anwar has been associated with Copper Chimney from the early beginnings of the business. He is an entrepreneur with vast experience in Business Creation and Management, including Finance
At Copper Chimney, he oversees all financial aspects of the group and business. His business acumen coupled with his experience, enables him to develop effective financial accounting and control procedures. He works very close with CEO with the aim of maximizing value in all levels of the business.
"The team is lively and friendly. I continue to learn from every member in the team about the various aspects of restaurant business."
---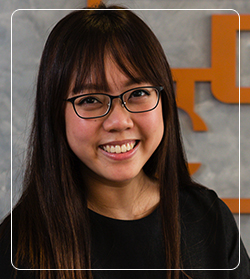 ZHANG KAREN SILIN
Sr. Admin & Finance Assistant

Karen joined Copper Chimney in October 2012 after serving in the Event Management Industry for several years. She has tremendous work ethics, a very sharp eye for detail and a deep desire to learn new skills.

After relevant training and on the job experience, she has become proficient in Book Keeping and Accounts, as well as many other Administrative functions including HR, Contracts and Law, Regulatory Affairs, etc., She is a very familiar voice and face to anyone dealing with Copper Chimney in these areas, including vendors, customers and Government Depts..
Still not satisfied with her accomplishments, she has recently started to assist the CEO in Management and operational functions of the business also
"Copper Chimney has a very friendly environment and a Management that provides opportunities for all employees to grow with the Company. And the best part is the wonderful food that I enjoy here!! I would recommend all Singaporeans to try Copper Chimney, at least once."
---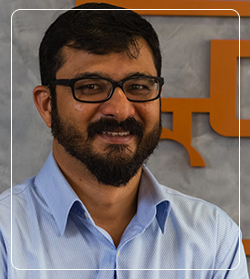 MANOJ
General Manager
Manoj Comes with a working experience over 15 years in various fields from Finance, procurement and F&B supply chain management.
In his previous posts he has managed operations, logistics, leasing, set up of central kitchens, implementation of Halal, HACCP & ISO projects and also was a part of successful turnaround businesses.
Some of his other strengths are successfully employing best business practices that improve efficiency, reduce operating costs whilst increasing performance, all within tight time scales and budgetary controls. Committed to identifying and implementing continuous improvements (product knowledge, up-selling) in ensuring business profitability.
OPERATIONS TEAM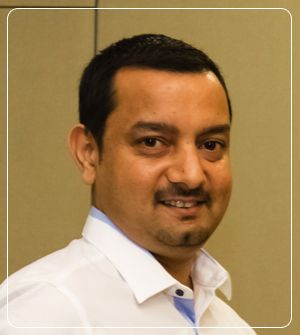 INDRA PRATAP SINGH BORA
Indra became part of the Copper Chimney management in October 2013. Before that he had worked in restaurants in Delhi, Cyprus and Gurgaon for about 12 years.

His primary responsibility at Copper Chimney is to ensure that the overall operations of the restaurant are smooth in the front and back end. In this regard, he supervises and manages all employees working in the restaurant. His ability to understand the employees has enabled him to cover their duties passionately, during their absence. Indra is also in-charge of ensuring the restaurant's quality of service standards as per the requirements of National Environment Agency in Singapore. Aside to all these, he also helps with managing customers' feedback, so as to achieve high customer satisfaction and loyalty. Indra is one of the key pillars of Copper Chimney.

"Copper Chimney's friendly environment is filled with a great team; from kitchen, to ground to the backend. We all respect each other at all times and our bosses are good at keeping us motivated."
---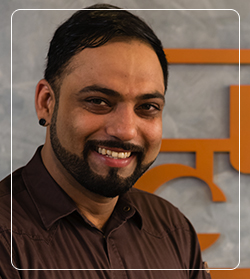 Parvinder Singh (alias Joney)
Assistant Restaurant Manager & Catering Manager
Joney has been one of the longest serving team members, since he joined
Copper Chimney in 2008. Before that he was involved in jobs wherein he handled customer feedback in guest relation service along with other operational work.
At Copper Chimney, Joney is primarily responsible for sales and customer relations. He manages and executes corporate sales, catering and delivery operations. His nature of addressing the customers in the best ways allows him to take in customer's feedback and resolve any negative concerns they may have. He also works very closely with the kitchen to help the Restaurant Manager. Joney is a familiar face to Copper Chimney's regular customers as well as the management. He is able to keep the customers satisfied, while covering many different roles as required.
He is an all-rounder and is able to cover the various roles when the team needs it !
"The best thing about working in Copper Chimney is that it feels like home. The environment is very friendly. I have learnt a lot from the bosses about how to take care of the customers as well as colleagues in a friendly and polite way."
KITCHEN TEAM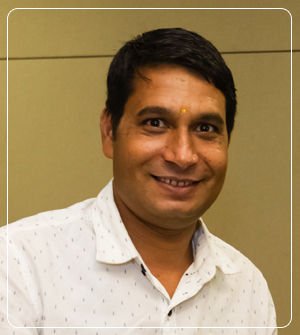 ANANT RAM
Sous Chef
Anant has 15 years of experience in North Indian food and Chinese Indian cuisine, and has worked with the major five star hotel brands such as Sofitel and Marriott in India. Since he joined Copper Chimney, Anant has fine-tuned our menu to make it more internationally appealing.
As the sous chef, Anant plans and leads the food preparation in Copper Chimney's kitchen. This includes directing the staff as well as ensuring that everything is in order. Aside to this, he is also responsible for scheduling the staff, in which he takes special care.
"It is great to be working in Copper Chimney, where I have much flexibility in the way I can run the kitchen. The team is friendly and cooperative in achieving our common goal of preparing tasty and quality food that the customers like"